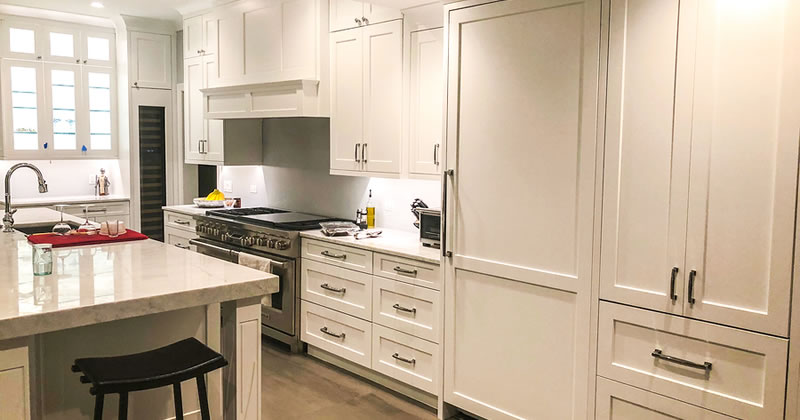 Cabinet Refinishing Charlotte North Carolina
We specialize in refinishing your wood cabinets
Refinishing your kitchen or bathroom cabinets is a great way to bring a more modern look to your home.  You can get a brand new look in your home without the expense of an extensive remodel and many of our customers are amazed with the dramatic difference it makes in their home.  Don't spend huge dollars replacing cabinetry when we can just clean them up, sand them, and refinish them in a new color and install new modern hardware.  It's an affordable way to make a big impact in your home.
Eagles Brothers Painting is a full service painting contractor based out of Charlotte, North Carolina.  We specialize in repainting and refinishing cabinets in your kitchen, bathroom, laundry room, office, or any room in your home with storage cabinets.  We can apply a new smooth finish to your cabinets that will resist chips, scratches, and stains and is easily maintained by simply wiping it clean with a damp cloth.
Cabinet Refinishing Services We Offer
Kitchen cabinet refinishing
Bathroom cabinet refinishing
Kitchen cupboard refinishing
Refinishing Choices We Offer:
High gloss finishes
Semi-gloss finishes
Matte (no gloss) finishes
Modern white
Endless color choices
With Every Cabinet Refinishing Project We Include:
An expert color consultation.
Removal/replacement of all hardware from the cabinets.
Scraping and sanding areas to be painted for a smooth surface.
Protect and cover floors, moulding, windows, furniture, and any other surfaces not to be painted.
Apply caulking at seams where ever necessary for a nice clean finished job.
We Provide The Following Surface Preparation On Every Cabinet Refinishing Project:
Thorough cleaning of the cabinet faces (drawers and doors) to be painted.
Scrape and sand any loose or flaking paint or stain.
We will repair any cracks, dents, or old nail holes.
Why Would You Refinish Your Cabinets?
Most people don't realize how expensive it is to replace the cabinets in their home.  Replacement can easily be $5000 – $15,000 depending on your taste.  Refinishing your cabinets can give your home interior a brand new look without such a high cost.  Eagles Brothers Painting provides cabinet refinishing services throughout the Charlotte area and we can give your old, outdated cabinets a brand-new look.  Save money while making a dramatic difference in your home interior.
We use very specific paint for our cabinet refinishing projects that is smooth, durable, and easy to clean and maintain.  We can refinish your cabinets into a modern white tone or any color of your choice to fit with your current interior decorating.  Refinishing your cabinets will modernize your home interior and add years to the life of your cabinetry.
For an even more noticeable update we can even add new modern hardware such as drawer handles, knobs, and repair any broken or bent hinges so your cabinets don't just look new, they actually feel new too!
Refinishing Bathroom Cabinets
Your bathroom cabinets or bathroom vanity can often take a back seat to the kitchen but they also see frequent use and reside in a humid environment.  The humidity in your bathroom can wreak havoc on the cabinets and the frequent use can often leave scratches, dent, or cracks that detract from the appearance.  If your bathroom hasn't been updated in years then you may also have a color scheme that is no longer appealing but instead tacky or dull.
Refinishing your bathroom cabinets is a quick way to refresh and modernize it's appearance and protect the surfaces for many years.  You're bathroom will have a whole new amazing look after refinishing the cabinets.
If you'd like to schedule a consultation and estimate to repaint or refinish your kitchen cabinets give us a call (704) 277-2875 or fill out our online form and we'll get right back to you.