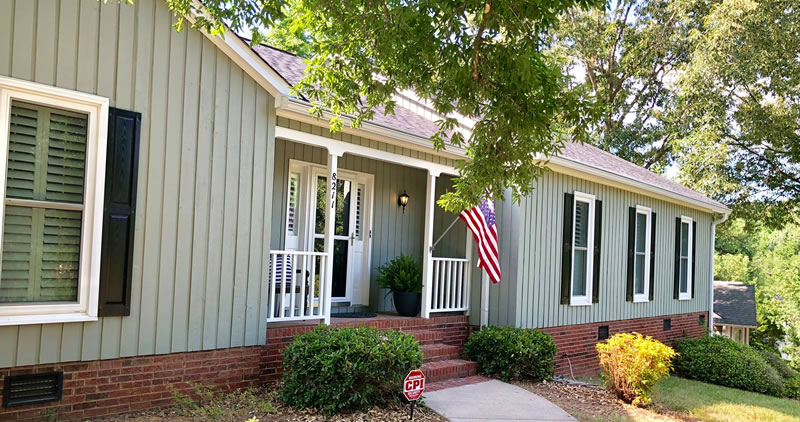 Residential Painter Serving Charlotte NC
We specialize in residential painting projects
Do you have a residential painting project in Charlotte, North Carolina?  Maybe you're looking to get your house ready for the market and it needs some repainting?  Maybe you've just purchased a new-to-you home and the colors just don't work for your taste?  Whatever your reason for needing a residential painter we're glad you've found our website!
Eagles Brothers Painting is a residential painting contractor based out of Charlotte, North Carolina and serving the surrounding area.  We specialize in residential painting services including interior and exterior painting, pressure washing, gutter cleaning, and carpentry.  Whether you're looking to paint the exterior of your home or just a few interior rooms our team can paint your home to the highest quality standards.  If your home is in need of a makeover then painting is a very cost effective way to make a dramatic difference.
Residential Painting Services Charlotte NC
Here Is What Is Included With Your Residential Painting Project
We'll provide you with an expert color consultation.
We will kill any mold or mildew on the surfaces to be painted.
We scrape and sand areas to be painted for a nice smooth surface.
We can remove any wallpaper or wall coverings.
Repair any surface imperfections like dents, cracks, or nail holes.
We protect and cover floors, moulding, windows, furniture, and surfaces not to be painted.
Remove and put back electrical sockets and switch plates, ceiling fan/lamp covers, thermostats and any wall or ceiling devices.
Apply caulking where ever necessary for a nice clean finished job.
We care about the final look of our paint jobs so our entire team is extremely meticulous with our painting prep work.  We want you to be left with smooth freshly painted surfaces.
When we're finished painting we'll complete a final cleanup of our work areas.  We then reinstall all of your trim, electrical receptacles, switches and any other wall or ceiling devices we may have had to remove.  Our entire crew will take every precaution possible to ensure we keep your home spotless and we leave no trace of our presence other than your beautifully painted home.
If you'd like to schedule a consultation and estimate for your residential painting project give us a call (704) 277-2875 or fill out our online form and we'll get right back to you.