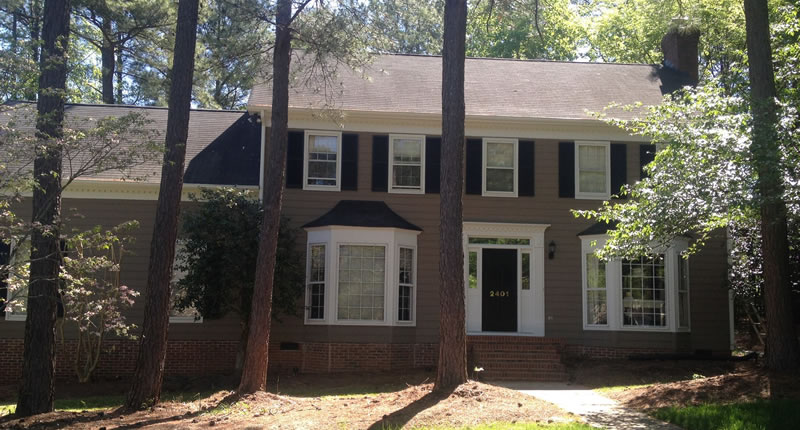 House Painters In Charlotte, NC
We specialize in house painting services
Are you searching for a professional and reliable house painter to paint the interior or exterior of your home?  There are many reasons you might want to have your house painted.  Maybe it hasn't been repainted in many years and the current paint is faded or peeling and flaking?  Maybe you're looking to sell your home and you need an affordable way to improve your curb appeal and resale value?  Whatever your reason for trying to find the right house painters, we're glad you've found our website!
Eagles Brothers Painting is a full service house painting contractor based out of Charlotte, North Carolina.  Painting houses is what we do best and you can feel confident when you choose us to paint your home.
We specialize in house painting projects of all sizes including both interiors and exteriors. From repainting your interior or a single room to repainting your entire home exterior along with your garage or other out-buildings to match.  The team at Eagles Brothers Painting can transform your home with a modern and attractive color scheme that will last for years.
House Painting Services Charlotte NC
Exterior wood trim painting
Painting exterior siding (wood, metal, or fiber cement)
All Of Our House Painting Projects Include:
On-site visit to go over your project.
Professional color consultation.
Pressure washing or thoroughly cleaning of the surfaces to be painted.
Sanding and scraping away any flaking or peeling paint.
Meticulous site preparation and protection of areas not to be painted.
Application of any base coats or primers. (if needed)
Application of top coats and trim or accents.
Final job walk-through with you.
Final details and finishing work.
If you'd like to schedule a consultation and estimate for your house painting project give us a call (704) 277-2875 or fill out our online form and we'll get right back to you.