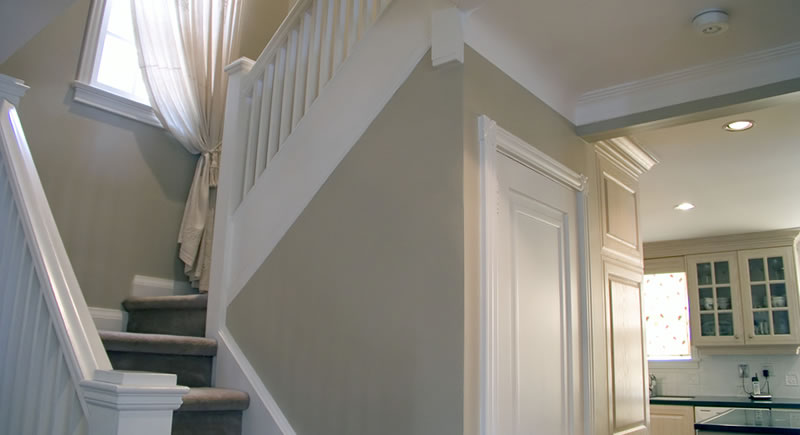 Interior Repainting Service Charlotte, NC
We repaint home interiors
Tired of the boring out of style colors inside your home?  Do you have old, faded, flaking or damaged paint?  Has it been many years since your home has had a color update?  Repainting your home interior is one of the most high impact home improvement projects you can do.  Repainting your interior will give your interior spaces a fresh, new, and inviting look while restoring your homes value and making it a more enjoyable place to live.
Eagles Brothers Painting is a full service interior painting contractor based out of Charlotte, North Carolina.  We specialize in interior repainting projects of all sizes.  From repainting your living room and dining room to repainting an entry way or even repainting your entire home interior, the team at Eagles Brothers Painting can repaint your home interior with a modern and vibrant color scheme.
Interior Repainting in Charlotte, NC
Complete interior repaints
Repainting walls & ceilings
Repainting interior trim and moulding
Re-texturing walls or ceilings
Repainting faux finishes
With Every Interior Repainting Project We Will:
Provide you with an expert color consultation.
Kill any mold or mildew on your walls or ceilings.
We'll repair any surface defects such as cracks, dents, or old nail holes.
Scrape and sand areas to be repainted for a smooth surface.
Protect and cover floors, moulding, windows, furniture, and any other surfaces not to be painted.
Remove and put back electrical sockets and switch plates, ceiling fan/lamp covers, thermostats and any wall or ceiling devices.
Apply caulking where ever necessary for a nice clean finished job.
Once we're finished with your repainting project and the new paint has dried we'll finish off with a final cleanup of our work areas.
We will reinstall all of your trim, electrical receptacles, switches, baseboard heaters, and any other wall or ceiling devices we had to remove to paint.  Our entire crew will take every precaution possible to ensure we keep your home spotless and we leave no trace of our presence other than your beautifully repainted interior.
Interior Repainting Color Consultations
We've been in the residential painting industry for many years and in that time we've watched various color trends come and go.  We know choosing the right colors can be a confusing and stressful experience for our customers with so many color choices on the market and so many different paint products to choose from.
We  stay on-top of what the most popular colors trends are and we offer all of our interior repainting clients expert color consultations.  We can take a look at your current interior, assess the existing paint, listen to your vision, and come up with a few different color choices that will look great in your home and make it a more modern and enjoyable space for you and your family.
We only use the best professional quality paints from trusted and proven companies such as Sherwin Williams and Benjamin Moore.  We'll be able to help you choose the best product for your specific repainting project.
If you'd like to schedule a consultation and estimate for your interior  repainting project give us a call (704) 277-2875 or fill out our online form and we'll get right back to you.